By Chema Rubio Velasco, Poet
Ian Gibson supervised his doctoral thesis. Juan Larrea paid for his taxi the day they met. Robert Gurney is an English poet who writes in Spanish.
In addition to establishing the path of his doctoral thesis on Juan Larrea (The Poetry of Juan Larrea, University of London, 1975), Gibson was responsible for the presentation in Madrid of Gurney's book The Dragonfly and Other Poems. A bilingual book. Lord Byron Editions, Collection Prometheus Unbound. 2013. Of that evening, here is an extract of what the poet Leo Zelada said: "The moving words of Ian Gibson talking about his friend and former student at the University of London, was a truly intimate moment." But in the absence of these words which may have been recorded but which I do not have to hand, we do have Zelada talking about book The Dark Room and Other Poems edited by Lord Byron in 2008: "The Poetry of Robert Gurney belongs to the best English tradition, with its verbal clarity and skilled handling of colloquial language. Nonetheless one notes the outpouring of a poetics of intensity, peculiar to the best Latin American poetry. Tradition and modernity intermingle to harmonious effect in this volume of poetry."
Marta Zabaleta, in the newspaper Colatino in El Salvador writes [of the poem 'The Pram']: "Short, precise words that describe a hair-raising scene, captured in the clarity of a moment, make the reader want to embrace the child still trapped in the suffering of his young mother."
And to end with the voices of others that speak of Robert Gurney, we give way to the Argentinian poet Andrés Bohoslavsky, who writes the prologue and selects the poems for the book Poemas a la Patagonia. Among other sincere words we read: "Robert Gurney, the man. To be honest, I write these lines for a friend. And writing it it sounds strong. Almost as much as when saying it. So I prefer, first, to talk about him. And to tell you a few things. Bob was among the few who rescued me from a dark period with respect to poetry. Abandoned and lacking belief in the "salons", the "inner sactums" and finally in the value of literature, I am drawn out this dark territory, as Chekhov would say, better than me."
Robert Gurney has the voice of Dylan Thomas so embedded in his head that the Welsh poet seems to come alive again and speak.
If we are what we live, Gurney, as a poet and one who identifies with Wales, is also Dylan. United by the same air where poetry becomes firm against the winds touting the placing of the economy on the altar, against the tides that rise at the foot of pharaonic constructions polluting the sea and the dunes, against all that is harmful for hearts brought up in the immortal music of our ancestors' hearts, so, for that, he writes, for those who can not say anything.
On each page that unique voice emerges drawing on others' experiences and his own at the same time, and also, at times, the voice of Dylan Thomas. Yet it is a special Dylan, recognizable because he is the Welshman all his readers know, but at the same time special and unique. Many specialists can speak of his poetry and his history but none can reveal him like Robert Gurney today through good original poems.
Our poet has had Dylan deep inside in his head since he was a child when heard him on the BBC and in the voices of famous actors such as Anthony Hopkins, Richard Burton, or that of a great friend, Philip Madoc, who has inspired him in more than one poem.
When he writes, he often hear Dylan's voice echoing in his mind and as he imagines it, the poem he is writing with his hands grows, as if dictated by him. That Dylan, whom he sees arguing with his friends in the Kardomah (The Poetry Society) in Swansea, whom he sees reciting, whom he sees smoking and drinking one by one the 18 whiskies he drank the day he died.
Robert Gurney is a poet of obsessions, fine incorruptible obsessions, where the dreams of human beings can be achieved or at least sung. One is the one we have been discussing, which gives the title to the book To Dylan and the other is Patagonia. This is a poem that brings together two of his magical obsessions in his latest book.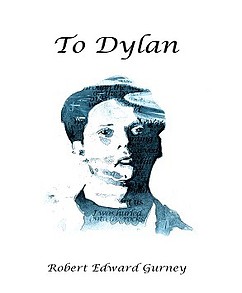 The Land of Poets
It was midnight.
25 degrees below zero.
The bus broke down
on the road between
Trelew to Esquel
in a place called
Plumas.
There were wild dogs
everywhere.
I thought I heard Dylan
whisper in my ear:
"This is a country
where they take poets
very seriously."
I think the same way as this poet named Robert Gurney, that we poets are taken very seriously in nobody's land. Sometimes we are like wild dogs putting a microphone to our pain which sometimes coincides with the same pain as the world's. In his case it coincides more often, because he is a pure poet and I am not talking about his poetic form, I mean the song of his sensibility. His song is an ode to that which is lost or that which we are about to lose, to that which is still breathing, because we are talking about life.
Another of his obsessions is Patagonia, an obsession that I share with him and with the writer born in Esquel, Osvaldo Bayer, who wrote a wonderful book called La Patagonia Rebelde. In the Andes mountains lush forests proliferate and to their right is the land of the Pampas, where dryness becomes Argentinean desert.
Patagonia is a place of extraordinary lakes, high mountains and in Ushuaia there is the End of the World Train. Then the land ends and the sea begins and on crossing it, a few hours later, we are in Antarctica. Such is the nature of his poetry that he takes us, reading after reading, beyond the known world without fear.
Robert Gurney knows Argentina, the first time he set foot there was around 1971-72. In those years the tension was unbearable between the students and the military, bombs started going off in some cities and there were the first concentration camps, though they were secret.
In this difficult context Robert Gurney conducts 36 interviews with the father of Spanish surrealism, Juan Larrea, the third of his obsessions.
And this poem reflects the first time he went to interview him to Argentina, in response to my question of how he met him:

Juan Larrea's Taxi in Argentina
Did you meet the poet Robert Alifano,
when you were in Buenos Aires?
asked the poet Chema Rubio.
I never met him, I said.
I passed quickly through the capital.
The taxi driver picked me up
at Ezeiza.
He had a green Ford Falcon
without number plates.
Why have you come to Argentina?
he asked.
To talk to a poet,
I said politely.
To talk to a poet?
he repeated incredulously.
Yes, to talk to a poet.
He did not believe me.
Passing through red light area
he offered me his sister.
He pointed at the door of a bar.
I declined graciously.
I thanked him,
while declining his offer.
When we stopped at the bus terminal
for the buses going into the interior
he robbed me
of nearly everything I was carrying.
Larrea had to help me.
No, I didn't spend much time,
Chema,
in Buenos Aires.
Just as the land of Patagonia ends up giving life to the sea and to the ice of Antarctica, the poet Robert Gurney ignores banditry and grows stronger each trip. Talking to him is like hearing him read those little stories that he has had to live through and has had to tell. He takes us in his latest book exploring the outer roads of Patagonia, to the people who cross his path and thinkers and poets, who are already in another world, like the excellent writer Juan Larrea, who will be as a lighthouse lighting the seas at night to take care of those who may be shipwrecked drifting into his shores.
And with me remains Gurney's slow light speaking to us in Madrid about Dylan Thomas and his journeys to Argentina, which is a common place in my life, sitting there with the poets Alvaro Guijarro, Silvia, Jose A. Pamies, and Leo Zelada . That was in 2010, when the economic crisis began to intensify and we were celebrating the Centenary of an irreducible honored poet, Miguel Hernández.
Talking with the Englishman Robert Gurney is to talk with a fiercely human man, as the poet would sing, but I see him as a good man in the best sense of the word good, as our Antonio Machado would have rendered judgement.. There are poems where the reader finds a new horizon and others where the heart stands still. The thread of thought while still analysing pulsates to the beat of the blood that has been in the unknown longing of a man who reads for the first time and who sees Robert Gurney's father, as if you were there in the British Isles, silently.
The poem is titled 'The hospital".
The Hospital
My father was
on the top floor
of the Luton and Dunstable
hospital.
He was suffering
terribly.
He whispered
that he wanted
to jump out
of the window.
I asked him not to
in case
there was someone
down there.
I thought I saw a smile
on his lips.
And biting our lip so that joy does not escape, brushing against nostalgia prematurely, after saying farewell, we go our separate ways.
And I leave you with the poem 'The White Lady' which Robert Gurney gave us for the volume Los Poetas de la Senda, The Poets of the Path and which is dedicated to his friend Ketty Alejandrina Lis. *
Goodbye teacher, see you soon, I say, while remembering that Dylan Thomas poem that I never tire of rereading, 'La muter de blanco', 'The White Lady':
The White Lady
to Ketty Lis
The night was as black as a bible.
We were driving down a lane in Wales
when I thought that I almost saw her in my headlights
the white lady
sitting on a gate.
I didn't know who she was
or what she meant.
She seemed to be mourning
the theft of the stone circle
from the field behind her.
Then I thought I saw Dylan
shuffling towards a village
in search of cigarettes from a machine that was
broken.
Then a barn owl with white wings
as broad as my car
attracted by my lights
swooped down, nearly smashing the windscreen.
I stopped
there was nothing.
I don't know what this means
but I can intuit it.
A friend of mine, who lives in Rosario,
says the white lady is poetry.
 
I remember having seen her
once
in a poem by Rimbaud
about a waterfall.
I must look for the book by Robert Graves
about this.
Suddenly I remember that I'm talking to Thomas Graves in Deia, finishing the meal and walking towards the house that was that of his father, Robert Graves. He says "Look there's my mother," and I see a woman in black in the sun. I see her like life, as she is, and suffering. And I think of the woman in white, as she was, and they always come back to me, those visions of an extraordinary poet named Robert Gurney.
Chema Rubio, Madrid, 28th September, 2014
(For the Spanish original of this article please scroll down to bottom.)